Wildflower Blog
Welcome to the Wildflower Blog!
December 7th, 2022
Hello Wildflowers! We can not believe it is already December. It has been a little while since we've given you all an update. We have had some beautiful change recently and we cannot wait to share with you all! We have had our online booking up and running for a few months now and it has been absolutely amazing. Our massage therapist Sav married her boyfriend of 11 years in June and then celebrated with a wedding in September. It was an absolutely beautiful evening. Sav has also decided to go back to school for her esthetics license starting, her schedule will be changing significantly from Jan to July. Our massage therapist, Caitlyn, is planning her wedding to her sweetheart October of 2023. She is continuing to grow and be the absolute best massage therapist we could have asked for! Our esthetician, Florence, is continuing to help build confidence by providing high quality facials. She also offers a yoga class on Wednesday, ask her for the location and time. We are already planning our Valentines specials so y'all keep a eye out in late January.
We hope you all have the happiest of holidays & the best New Year! We are so grateful for you all,
Sav | Caitlyn | Dawn | Florence
April 4th, 2022
Hi guys! Happy freakin' Spring! The trees are green, flowers are blooming and the bees are buzzing. What a wonderful change of the season to bring a change of scheduling. We are so excited to announce that we *finally* have online booking! Go to the 'Hours & Book Now' tab to book immediately. We have been working really hard to switch everything over to Square Appointments and we really hope this makes booking appointments easier for all of us!
Thank you all for continued love & support!
January 15th, 2022
Hello beautiful souls! Happy New Year to you all and we hope it has been good to you so far. The staff of Perfectly Pixeled wishes to inform all of our clients of some changes we will be implementing starting February 1, 2022. First, we want to start off by saying thank you for supporting us over the last 8 years. Without each and every one of you, we simply would not be here. As most of you are aware, COVID-19 has devastated a lot of businesses. We have been so fortunate to keep our doors open after the mandated shutdown. We love what we do, and we are so determined to survive through these challenging times. Like so many businesses, we have been faced with the unfortunate decision of raising our prices due to the increasing cost of necessary products and supplies. In order to maintain the integrity of our products and services, we will be increasing our prices effective February 1st, 2022. While the price increase will vary depending on the service, you will see a price increase of approximately $10-$15 per service. Additionally, we will be implementing a 3% fee for the use of credit and/ or debit cards. We encourage our clients to pay with cash and to be mindful of the 3% fee if you wish to pay with card. While this policy is new to us, it is extremely common in the industry. This will start February 1st, 2022. Lastly, Perfectly Pixeled Spa will be introducing a new scheduling program. This program will require a card to be put on file in order to book and hold appointments. If you have prepaid services, you may opt to hold your appointment with your prepaid. We are hoping to have this running by March 1st, 2022. We will keep you all updated as changes are made. We continue to strive to provide excellent service and communicate any and all changes. If you have any questions or concerns, please contact the spa. We love and appreciate all of you, and we look forward to seeing you all soon.
Thank you all so much,
Your Perfectly Pixeled Team
Dawn, Sav, Caitlyn & Florence
May 20, 2021
Hello wildflowers, it's Sav again! I wanted to hop on here to say Hi! and give you guys an update. First things first, the mask of it all! We have decided as a private business that we will require mask until further notice. If you are fully vaccinated, you may choose to remove your mask while you are in the treatment rooms. Mask are required for all clients and staff to wear in common areas (front desk, waiting room, hallway and bathroom). We appreciate each and every ones cooperation and patients during this time. Second, we are very busy and book up pretty quickly. We are still booking facials and massages about 2-3 weeks out and body treatments are about 1-2 weeks out. Please be patient with us, we are a small local business. We are working diligently to respond to all appointment request through email, we respond to the email you all provide in the request form. Make sure to check your spam folders. Please call if you have any questions, (757)-222-8320. Third, we are working on some amazing Summer Specials!! Keep your eyes out for that under our 'Specials" tab (:
I hope you all are staying happy and healthy. Have a wild day!
April 15, 2021
Hey wildflowers, it's Sav! I wanted to come on here to say hello and give you all updates. We all agreed we need a blog to keep our clients up to date on everything that has to do with the spa! First of all, thank you to each and every one of our clients. You all have been such a blessing. We are busier than ever and loving every minute! We strive to be the best and give amazing service every single time. You all make that very easy to do, we thank you all so much. With that being said, we are busy! For some massages and facials we are booking almost two weeks out. We are trying very hard to open our schedules even more and get you all in for your relaxing spa day!! Please bear with us as we are coordinating the schedules.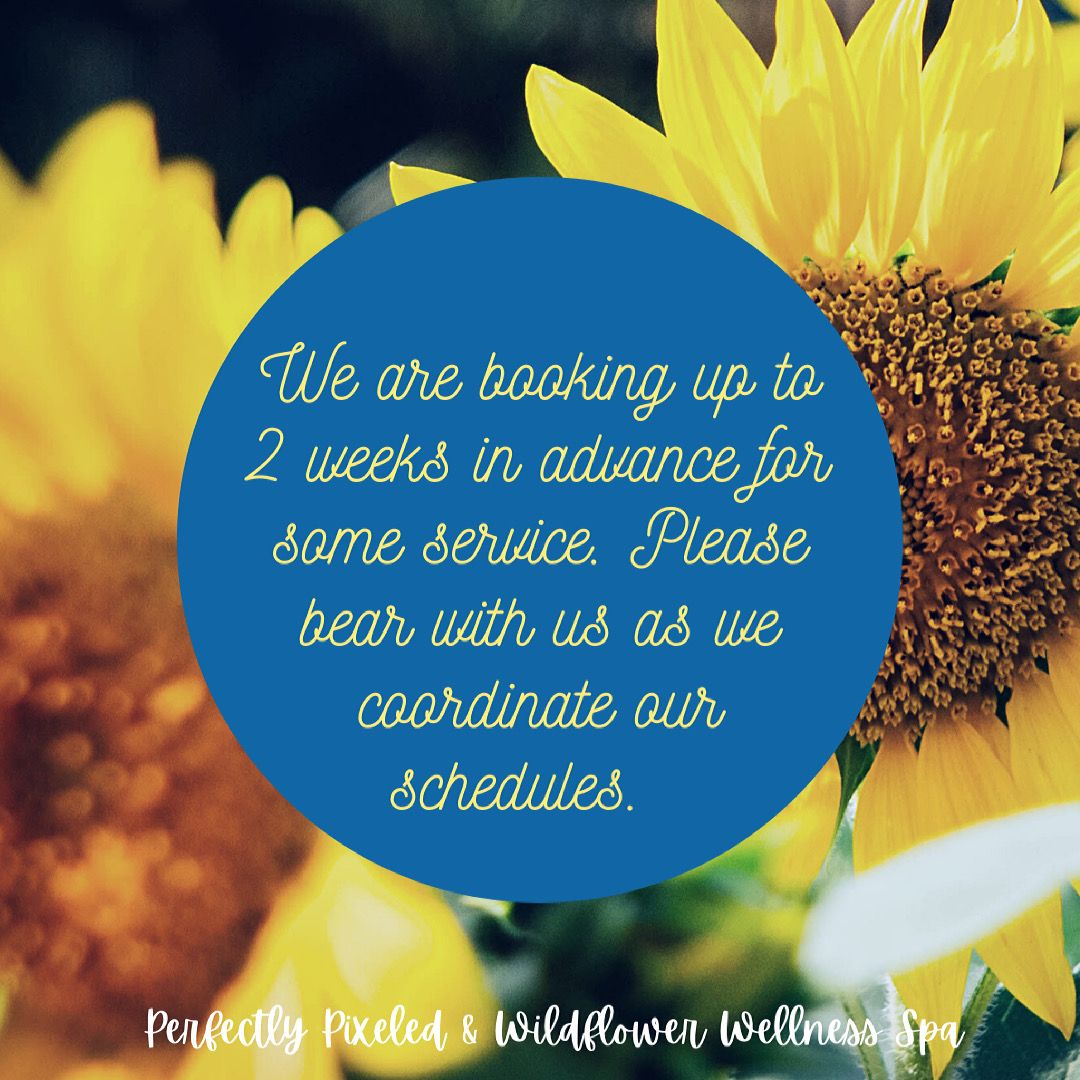 Other important things to touch on, We try to respond to all appointment requests quickly through the email you provide us.
Please remember that when requesting an appointment, you are just requesting that day and time- not booking an appointment. We will try our best to get you in as close to your request as possible. We are very busy, please leave a detailed voicemail if you call and we miss you. We are more than likely on the other line or helping clients in-house. Mask are still mandatory. You must wear your mask during all services unless instructed otherwise. This means over the nose as well. No call, no shows will not be tolerated. We reserve the right to charge you a fee for your missed appointment. We also reserve the right to validate any Groupon as payment for the missed appointment.