Updates!
Welcome to the Wildflower Blog!
May 20, 2021
Hello wildflowers, it's Sav again! I wanted to hop on here to say Hi! and give you guys an update.
First things first, the mask of it all! We have decided as a private business that we will require mask until further notice. If you are fully vaccinated, you may choose to remove your mask while you are in the treatment rooms. Mask are required for all clients and staff to wear in common areas (front desk, waiting room, hallway and bathroom). We appreciate each and every ones cooperation and patients during this time.
Second, we are very busy and book up pretty quickly. We are still booking facials and massages about 2-3 weeks out and body treatments are about 1-2 weeks out. Please be patient with us, we are a small local business. We are working diligently to respond to all appointment request through email, we respond to the email you all provide in the request form. Make sure to check your spam folders. Please call if you have any questions, (757)-222-8320.
Third, we are working on some amazing Summer Specials!! Keep your eyes out for that under our 'Specials" tab (:
I hope you all are staying happy and healthy. Have a wild day!
April 15, 2021
Hey wildflowers, it's Sav! I wanted to come on here to say hello and give you all updates. We all agreed we need a blog to keep our clients up to date on everything that has to do with the spa!

First of all, thank you to each and every one of our clients. You all have been such a blessing. We are busier than ever and loving every minute! We strive to be the best and give amazing service every single time. You all make that very easy to do, we thank you all so much.

With that being said, we are busy! For some massages and facials we are booking almost two weeks out. We are trying very hard to open our schedules even more and get you all in for your relaxing spa day!! Please bear with us as we are coordinating the schedules.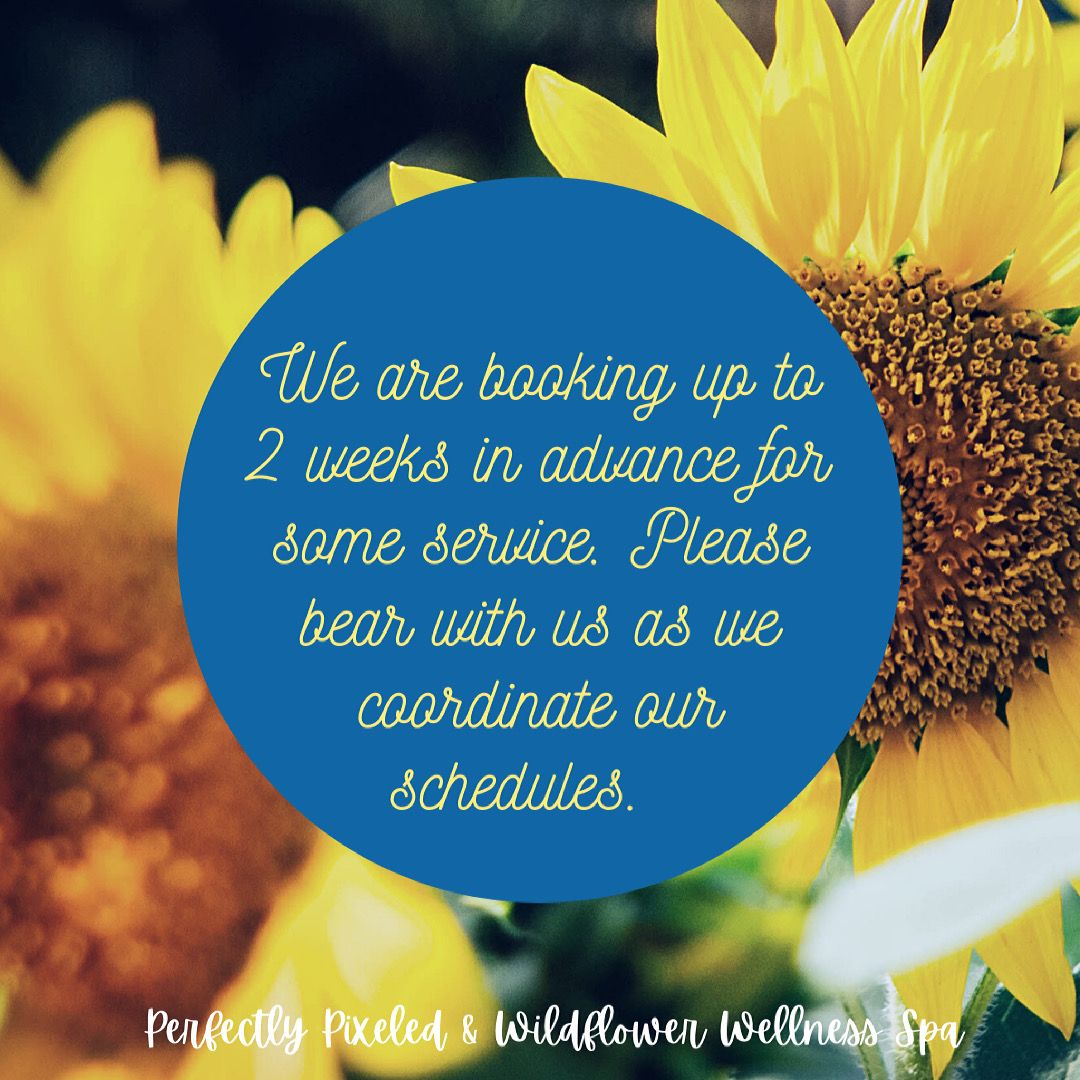 Other important things to touch on,
We try to respond to all appointment requests quickly through the email you provide us.
Please remember that when requesting an appointment, you are just requesting that day and time- not booking an appointment. We will try our best to get you in as close to your request as possible.
We are very busy, please leave a detailed voicemail if you call and we miss you. We are more than likely on the other line or helping clients in-house.
Mask are still mandatory. You must wear your mask during all services unless instructed otherwise. This means over the nose as well.
No call, no shows will not be tolerated. We reserve the right to charge you a fee for your missed appointment. We also reserve the right to validate any Groupon as payment for the missed appointment.